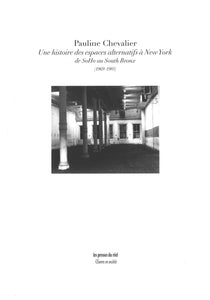 Les pratiques artistiques dans les « espaces alternatifs » à
New York.
112 Greene Street, The Kitchen, Artists Space, The Clocktower, P.S.1, Franklin Furnace, ou Fashion Moda : ces lieux nés durant la décennie 1970, et parfois toujours en activité, ont laissé une empreinte durable sur la scène artistique new-yorkaise.
« Espaces alternatifs », d'abord installés dans ces quartiers industriels du sud de Manhattan qui deviendront SoHo et TriBeCa, puis dans l'East Village, le Queens, Brooklyn, ou encore le sud du Bronx, ces lieux d'exposition, de création et de sociabilité établis en marge des institutions muséales et des galeries commerciales ont favorisé l'épanouissement de nouvelles pratiques : art processuel, danse postmoderne, art vidéo, performance.
C'est une enquête historique et un parcours géographique que propose l'ouvrage, mettant en lumière l'articulation entre ces pratiques et les phénomènes institutionnels, sociaux, économiques et urbains dont elles ne peuvent être dissociées. Si les installations dans les espaces bruts du 112 Greene Street ou l'exposition inaugurale de P.S.1 révèlent un engouement pour le matériau urbain, c'est aussi la place des artistes dans la ville de New York qui est alors constamment interrogée, depuis la légalisation des premiers lofts jusqu'aux critiques virulentes de la gentrification qui émanent de la communauté artistique elle-même. Alors qu'au début des années 1970 ces lieux alternatifs profitent d'un contexte économique favorable et du soutien d'une nouvelle politique culturelle fédérale et locale, le milieu des années 1980 sonne le glas d'un mouvement. « The Fun is gone » arbore la Fun Gallery à sa fermeture dans l'East Village en 1985. La scène alternative s'essouffle sous la présidence Reagan, non sans avoir nourri sa propre histoire et contribué à la constitution d'une mythologie et d'un héritage dont l'ambivalence persiste aujourd'hui.
paru en juillet 2017
édition française
17 x 20 cm (broché)
506 pages (60 ill. n&b)